Roger Guindon Hall Laboratory Expansion (University of Ottawa)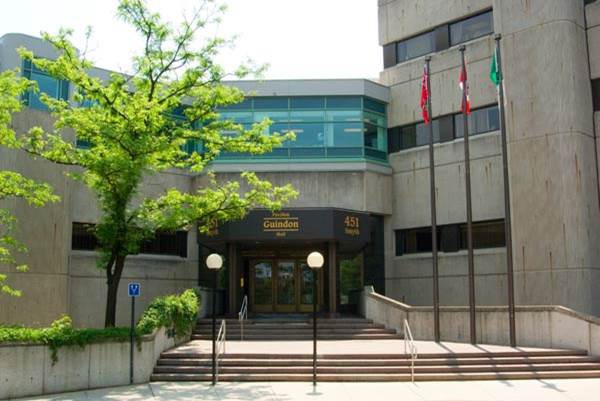 Location: Ottawa, Ontario
Status: Completed in 2009
Value: $20M (Mechanical & Electrical construction cost)
Floor Area: 170,000ft2
Awards: ASHRAE Chapter Technology Award, New Institutional Buildings Category, 2009
Jp2g provided design and construction contract administration services for a new BSL 3, Vivarium, and Biology Laboratory expansion at the University of Ottawa's Roger Guindon Hall.
Full heating and cooling utilized multiple variable-air-volume air handlers. The new mechanical systems also included specialized space pressurization controls, bio-waste segregation, and specialized exhaust systems. Jp2g paid particular attention to air filtration and containment, as well as existing remote heating systems tie-ins for heating energy.
This project also required the design and installation of a new 150-ton air-cooled screw-type chiller that is integrated into the new emergency power system. This ensures that critical areas including animal care do not lose space cooling in the event of an external power supply system (utility) failure. Additional DDC systems controls were also implemented to optimize the comfort and energy consumption considerations.
Electrical systems support the increased building loading including both primary and secondary power and distribution systems replacements and upgrades, transformer and switchgear replacement, and new fire alarm systems integrations with the new mechanical and fire suppression (foam and conventional) systems.
Jp2g also provided upgrades to other associated systems in the building over an additional area of 30,000ft2.